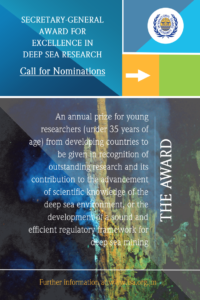 The International Seabed Authority is mandated to promote and encourage the conduct of marine scientific research in the Area and to coordinate and disseminate the results of such research. In line with this, the Secretary-General's Award for Excellence in Deep-Sea Research is intended to recognize and encourage the achievements of young researchers from developing countries who have made outstanding contributions to the advancement of scientific knowledge of the deepsea environment or to the development of environmentally sustainable regulatory frameworks.
All nominations should be emailed to sgaward@isa.org.jm (link sends e-mail) by the 15 April 2018 deadline.
The Terms of Reference for the Award and the process for nomination and selection are as follows:
---
Eligibility
The Secretary-General's Award is intended to recognize individual accomplishment. However, there may be cases where the research has been undertaken by a team, consisting predominantly of eligible candidates. In such case, a team nomination may be submitted.
Only candidates under the age of 35 at the date of nomination who are nationals of a developing country, as defined by the United Nations, are eligible to apply.
The results of the research for which the nomination is submitted should have been published either in English or in French no earlier than one year prior to the date of submission.
Any individual or team that has previously received the Secretary-General's Award shall not be eligible for nomination.
Nomination procedure
Nominations and applications must be supported by two sponsors.and should be received no later than April 15, 2018.
Documents
Nominations should consist of the following documents:
A letter from the nominator summarizing the research and outlining the national or international significance of the work submitted. The letter should not exceed 750 words;
The curriculum vitae of the candidate;
Any publication derived from the research undertaken;
Two letters from sponsors outlining the type and impact of the research carried out by the nominee and attesting to its significance and quality.
Advisory Committee
A five-member Advisory Committee is a voluntary committee, appointed by the Secretary-General, with responsibility for the evaluation of nominations and are recognized for their expertise in the field of deep-sea science (natural and/or applied); social sciences and humanities with experience in the law of the sea; international law; or management of marine resources.
Members of the Committee are:
Annick de Marffy Mantuano
President of the Scientific Board of the Economic Law of the Sea Institute (INDEMER, Monaco)
Chunhui Tao
Researcher/Deputy Director of China Deepsea Exploration Tech and Geoscience R&D Centre, Second Institute of Oceanography
Biliana Cicin-Sain
Professor/Director/President, Global Ocean Forum
David Billet
Director, Deep Seas Environmental Solutions Ltd
Lawrence Folajimi Awosika
Vice Chairman of the Commission on the Limits of the
Continental Shelf (CLCS)
Award and presentation
An award will be presented to the successful applicant.  The name of the winner will be announced at the annual session of the Assembly of the International Seabed Authority.