INTERNATIONAL SEABED AUTHORITY | 27 October 2017
JAMAICA, Kingston – – On the 15th October 2017, the ISA delegation arrived in Warsaw for a series of official meetings and discussions with the Polish Minister Mariusz Orion Jędrysek and the Interoceanmetal Joint Organization (IOM) in Szczecin.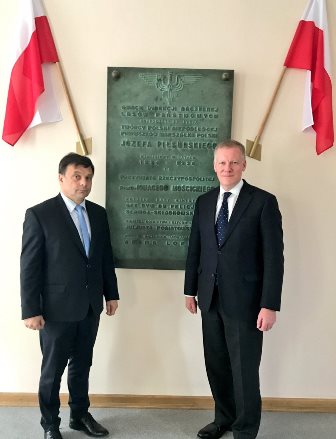 At the Ministry of Environment, talks with Minister Jędrysek focused on the next steps to be taken following the approval by the Council in July 2017, of a Plan of Work for exploration for polymetallic sulphides submitted by the Minister of Environment and the exchange of contracts.
Other matters included possible areas for collaboration in the establishment of an Environmental Management Plan for mid-Atlantic Ridge and the crucial role played by ISA contractors.
Discussions also revolved around annual reporting requirements and current developments in the draft exploitation regulations.
The ISA delegation also held several meetings with IOM Director-General Tomasz Abramowski at the IOM headquarters in Szczecin and participated in the IOM Council session which was also celebrating its 30th anniversary.
The delegation led by Secretary-General Michael Lodge also attended the opening of the International Trade Fair "Pol-Eco-System" in Poznań, participated in a panel on Oceanic Seabed – Environmental and Legal Aspects with Minister Mariusz Orion Jędrysek and visited the KGHM copper smelter in Głogów.
Poland is also one of the sponsoring States for Interoceanmetal Joint Organization (IOM), a contractor with the Authority for the exploration for polymetallic nodules in the Clarion Clipperton Zone since 2001.