The past month has been anything but quiet over at Nautilus Minerals.  Changes in leadership, transparent financial stress and mobilized on-the-ground opposition have clashed with marked advances in technology and production timelines on the controversial Solwara One deep sea mining project in Papua New Guinea.
A positive 2017 second quarter left shareholders happy and Nautilus Minerals well on the path to pioneering the first operational commercial mine in the deep ocean – a project in Papua New Guinea's Bismarck Sea that has been described as the advent of a new era in the global mining industry.  However, a series of highly visible developments have cast a shadow on the company's otherwise positive outlook.
Let's take a look at the developments that have put Nautilus Minerals under pressure over the past month.
Company Short on Funds
On September 26, Nautilus released a corporate update indicating that they continued to explore financing opportunities in order to maintain the development of the Solwara One project as well as the Company's operations.  As previously disclosed, Nautilus requires significant additional funding in order to complete the build and deployment of the seafloor production system to be utilized on the project. Based on their cash position and budget at that time, they needed to obtain new funding of approximately US$41 million by the end of 2017, with approximately US$15 million of that required before October 31, 2017 in order to meet the Company's contractual commitments in relation to the equipment forming part of the seafloor production system.  A further approximate US$270 million is required in order to complete the build and deployment of the seafloor production system to be utilized at the Solwara One Project.
Changes in Leadership, Fiscal Relationships
On October 5th, Nautilus announced that Mark P. M. Horn had resigned as a director of Nautilus in order to lead Deep Sea Mining Finance Ltd. ("DSMF"), a recently formed joint-venture between the two major shareholders of Nautilus, Metalloinvest Holding (Cyprus) Limited and MB Holding Company LLC.
By October 11th, Nautilus entered into a Funding Mandate Agreement with DSMF.  Under this agreement, DSMF became Nautilus' exclusive financial advisor in respect to the remaining Solwara One project financing of up to US$350 million.  The high stakes arrangement may be terminated if DSMF fails to arrange binding commitments of at least US$50 million (the "Interim Financing") by December 4, 2017.
Finally, on October 19th, Nautilus announced the appointment of John McCoach onto its Board of Directors as a replacement to Mark Horn.  McCoach has also been appointed Chair of the Company's Audit Committee.
Production Timeline Advances
On October 12th, amidst significant changes in corporate structure, Nautilus provided a decidedly positive public update on the status of its seafloor production system to be used at the Solwara One project site.  The update indicated completion of the submerged trials of their Seafloor Production Tools (SPTs); a ~70% completion rate on their support vessel at the Mawei shipyard; and on-track development of their SPT Launch and Recovery Systems (LARS), the derrick and associated substructure required for the deployment of the Subsea Slurry Lift Pump and riser, and dewatering plant structural steel modules at Sichuan Honghua Petroleum Equipment Company's Qidong yard.
Mike Johnston, Nautilus' CEO commented: "The Company is pleased by the progress that continues to be made with the construction, trialing and delivery of the seafloor production system…The system remains on track for initial production during the first half of 2019, subject to further financing as indicated previously."
With 18 months to go until the commencement of the production phase of the Solwara One project, a noteworthy development has been the training of two local Papua New Guineans to pioneer deployment of Nautilus' Seafloor Production Tools. With over 40 years of terrestrial mining experience between them, Herman Sumun from Madang and Leslie Kewa from Jiwaka will now be the first people in the world qualified to operate the world's first experimental seabed mining technology.
Sustained Local Opposition
The October 12th public update from Nautilus Minerals also characterized an on-going stakeholder engagement process as having engendered strong local support for the project as a result of its health, education and infrastructure improvement programs and regular awareness meetings in coastal communities.   However, recent headlines from the region tell a slightly different story.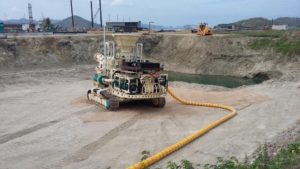 On the ground, the Solwara One project is increasingly being characterized as having minimal spin-off benefits to local landowners.  This issue of benefits has been one of the main concerns of the leaders of both New Ireland and East New Britain, both of whom were present in Port Moresby to witness the recent trials being conducted on the Nautilus Minerals' Seafloor Production Tools.
On September 5th, some local representatives presented a formal request that the PNG Government release key public documents relating to the licensing and environmental impacts of the Solwara One deep sea mining project by October 18 or face the prospect of legal proceedings.  Letters were lodged with the Ministry of Mining and Ministry of Environment and Conservation and were signed by representatives of four communities from PNG's Bismarck Sea region. The letters note that Section 51 of the PNG Constitution provides the right of reasonable access to official documents for every citizen of Papua New Guinea.
"Very little information about the Solwara One project has been disclosed by PNG Government or the project developer, Nautilus Minerals", stated Peter Bosip, Executive Director, Centre for Environmental Law and Community Rights (CELCoR).
And according to Jonathan Mesulam from the West Coast of New Ireland Province, civil society has been requesting this information for many years, "Why is the Government keeping secrets from its people? Communities on the west coast of New Ireland Province live only 25km from the proposed location in the Bismarck Sea. We are on the front line of Solwara One mine and if it goes ahead it will impact our lives and livelihoods," he said.
Local advocates are receiving high level support in their calls for clarity, including from former PNG Attorney General and Chief Justice, Sir Arnold Amet who has expressed that the people have a right to know what kind of environmental impact deep sea mining will have, especially in the Islands region.  Amet has recently joined efforts by the Deep Sea Mining Campaign and BankTrank to attempt to dissuade potential investors, warning them of a risky investment.
"It is understandable that Nautilus shareholders want to protect their own financial interests but new investors should beware that Solwara One is very high risk," Amet said.
Nautilus Minerals for its part has been transparent about the limited benefits of the project in comparison to terrestrial mining operations.  Adam Wright, Nautilus Minerals Vice President for Papua New Guinea operations, has expressed that unlike traditional land-based mines, the foot print of the Solwara One project will be quite small, employment will be limited to about 200 people and the impact on the local economy will not be the same for operations out at sea in the way that land-based mines require spin-off businesses including buses, security and laundry services.
Instead, Mr. Wright asserts, Nautilus would focus on stimulating business development in other areas, "What we want to do is help generate businesses that will still be going once we are gone. We are looking at areas of cocoa and copra and trying to help people rehabilitate plantations and get those industries running," he said.
Communities will also be benefiting from royalties once the company begins production.