Happy 2018 and welcome to our new year's edition of the DSM Observer.  As our readers return from holiday breaks and family gatherings, we embark together on what is shaping up to potentially be one of the most pivotal years yet for deep sea mining.
2017 laid the framework for much of what lies ahead in 2018.  On the international stage, we welcomed a new Secretary-General, Michael Lodge to the International Seabed Authority (ISA).  Lodge has been breathing new energy into the Authority, drafting portions of a comprehensive Mining Code, while preparing the ISA for its long-term role as a regulatory body.  During the first year of his tenure, the ISA held its first workshop in a landlocked developing country (Uganda).  Progress was also made in discussing potential ISA financial mechanisms.   And the ISA Assembly agreed to a timetable for completing the Mining Code by 2020.  In March, the ISA Council will meet in the first of two 2018 sessions to begin deliberations on the draft exploitation regulations.
Meanwhile, the UN General Assembly agreed to begin negotiating a new treaty for the high seas in 2018.  Such a treaty would put the entirety of the ocean's water column beyond national jurisdiction under a governance framework.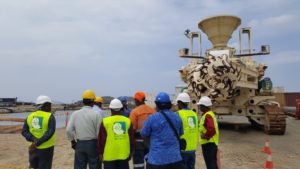 On the technology front, 2017 saw the first ever large-scale extractive test mine performed on a hydrothermal deposit off Japan.  In Papua New Guinea, Nautilus Minerals had a mixed year with successful testing of equipment and serious shortfalls in financing.
All of the policy, technology and science advances of 2017 have been set against a backdrop of skyrocketing energy metal prices.  Cobalt has been widely lauded as 2017's metal of the year, with consumption of cobalt and other metals needed to produce lithium-ion batteries expected to rise in coming years as electric vehicles become more prevalent.  The promise of electric vehicles and a new generation of green technologies, combined with an increased focus on ethically-sourced cobalt, is intensifying interest in the mineral bounty of the deep sea.
In this issue, we offer you a selection of articles representing a portfolio of issues that will shape 2018.
Finally, as we do each month, we've rounded up and summarized 2017's final month of mining news for your convenience.  Read how China's President Xi Jinping, U.S. President Donald Trump and Elon Musk have been selected as some of the mining industry's top influencers for 2017; BBC's Sir David Attenborough speaks out against deep sea mining; copper prices scale new heights; electronic waste is at a new high, squandering metals; and MiTech launches a new 'Cinema Class' ROV.
That's it folks.  Hope to see you in breezeways of the many events this year in which deep sea mining will take center stage.
Sincerely
Arlo Hemphill
Editor, DSM Observer